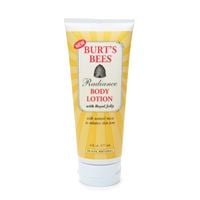 One of my favorites

I love this lotion! I have REALLY dry skin, especially on my legs and this moisturizers really well! It does have a slight shimmer, but I don't find it overwhelming at all! I like the way it smells too. But best of all, Burts Bees products are free of parabens and harsh chemicals, and I like knowing I'm not slathering myself with something bad for me.

"Radiance" on package was misleading

I would have loved to give this product a fair try but was disappointed when I noticed the glitter in the product. I had assumed, by "radiance", that it would be very subtle and similar to the some of the moisturizers claiming the same thing by Olay. Instead, there was a visible transparent glitter all over my hands and arms that was too much for comfort. This product would best be marketed as a subtle shimmering lotion.

Too sparkly

Moisturizes well, but I don't like the sparkles.

Back
to top