Tanning Beds Will Officially Give You Cancer!

Posted by Anna on July 29, 2009 at 04:12PM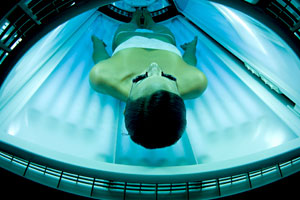 If you weren't already convinced that tanning beds are the devil, new research has been published today compiling the findings of twenty other studies, that puts the ultraviolet radiation into the top cancer risk category right next to smoking and hepatitis. The new study was done by the experts at the International Agency for Research on Cancer and the World Health Organization.
They found that the lights used in tanning beds will increase your risk of getting skin and eye cancer by 75 percent if you are under the age of 30! Some countries, because of this fact, have banned the use of tanning beds by minors, making it illegal for anyone under the age of 18 to use them.
Why are people still using tanning beds to begin with? We have had the basic knowledge that lying in a mini oven couldn't possibly be good for you for a while now. Even celebrities, who don't always make the best decisions, have found a way to look brown and beautiful without the bed.
So now with this stone cold proof there are no more excuses, especially when there are great self-tanners that give you the result AND expert advice on how to give yourself the perfect application, You now have no reason to be dancing or shall I say lying with the devil.