Posted by Total Beauty on 04/29/13 at 11:51AM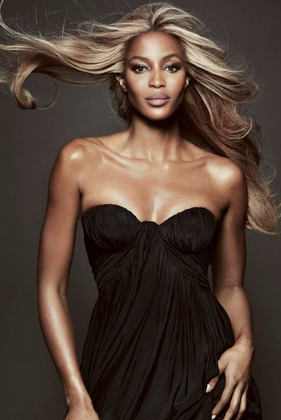 Blonde is having a moment: first Beyonce, then Sofia, and now Naomi Campbell! The supermodel flaunts a sculpted body and flowing blonde waves on the cover of the 38th anniversary issue of Vogue Brazil. Paired with a black cutout bathing suit and chunky pearl bracelets, her newly flaxen hair is more glamorous than ever. You like? Source: Glam.

If you think your guy's stubble is sexy, you're not alone. According to a new study, a 10-day beard is the sexiest facial hair for men. Researchers photographed 10 men at four stages of beard growth: clean shaven, 5-day "light" stubble, 10-day "heavy" stubble and fully bearded. Participants said that the clean-shaven men looked as attractive as those with a full beard, but rated the bearded men higher for perceived parenting skills. If…
Read more »


Posted by Dawn Davis on 04/26/13 at 10:06AM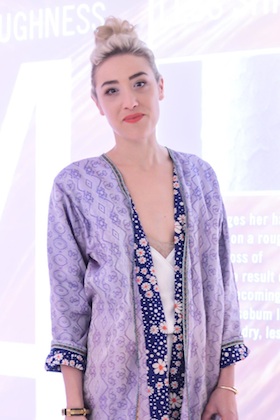 Last night, I had the pleasure of attending a Nexxus party to celebrate the launch of their Youth Renewal line. I got to hang out with my favorite celebrity stylist, Kevin Mancuso, learn about the new products, and have a sketch done by a fashion illustrator. (Pretty cool, right?) There was gorgeous hair in spades, but the DJ kept catching my eye -- her look was just so cool. When I found out she was super-star DJ Mia Moretti it all made sense. I love her new take on the topknot -- it's looser and lower -- and the light hair color and dark brow combo is everywhere right now.

If you're in New York City, get excited: There's an encore happening right now. Today from 2-8pm and tomorrow from 11am-5pm you can stop by 30 Gansevoort Street to have your hair styled, hear about the…
Read More »


Posted by Total Beauty on 04/25/13 at 02:07PM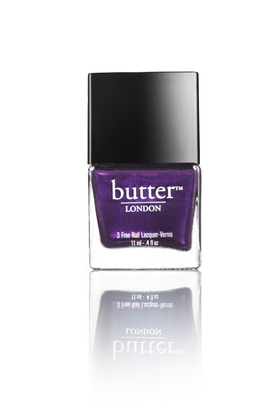 In what is possibly the cutest news you'll hear today, Butter London has launched a new limited edition lacquer to celebrate the imminent arrival of the Royal Baby (aww).

The color is an opaque aubergine -- purple is royal, after all, and it's stereotypically gender-neutral -- and it's adorably named "Pitter Patter." The new shade is available today on butterlondon.com, which is, to up the cute factor, just in time for Will and Kate's second wedding anniversary on April 29th.

"Pitter Patter" is the third royal-inspired launch from the British brand, following "No More Waity Katie" in celebration of the royal wedding, and more recently the limited edition "Lillibet's Jubilee," in honor of Queen Elizabeth's Diamond Jubilee.

What do you think of the new royal shade?
See more »


Posted by Total Beauty on 04/25/13 at 11:28AM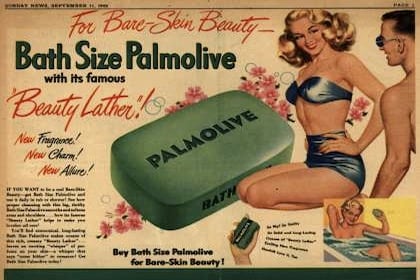 Palmolive has been a staple dishwashing soap for decades. Other than cutting grease stains, families use it to clean gardening tools, create impromptu Slip 'n Slides, and wash windows.

But it wasn't always just for dishes and household chores. Back in 1949, the Palmolive Company launched an actual bath bar along with other solid and liquid bath soaps. This advertisement, introducing a new variation to the bath size beauty lather, is the epitome of vintage glamour -- just check out the bombshell blonde posing in a navy satin, high-waisted, bandeau bikini with retro waves. The pops of red copy (and red nails!), cursive writing, and exclamation points nod to the charming essence of the era, too.

Although they don't make bath bars anymore, the brand continues to focus its messaging on…
Read More »


Posted by Sarah Carrillo on 04/23/13 at 03:20PM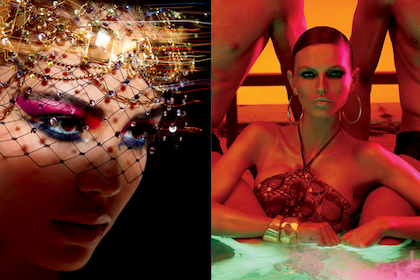 I am so excited for MAC's gorgeous new launches: a luxurious eye collection and a "steamy nocturnal" color collection.

The Art of the Eye collection is made up of rich colors that resemble ornate jewels. I love the names that recall a journey to fantastic places -- there's an eye shadow called "Najm el Lail" (Star of the Night in Arabic), and a shadow quad called "Rimal Dahabia" (Golden Sands). The collection will be available online April 25 and in stores May 2 to June 13.

The Temperature Rising collection has sultry colors that are perfect for summer nights -- with bright purples, shimmery golds and peachy coppers dominating the color scheme. The molten metallic eye pencils, vivid lipsticks, and bronzing oils remind me of dancing at a nightclub in the tropics. Temperature…
Read More »