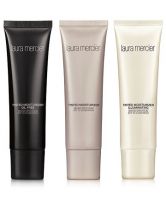 Editor's Rating & Review
First and foremost a moisturizer, this lightweight formula hydrates combination skin amazingly well and offers sheer coverage. Seven versatile shades blend well with most skin tones. Applying over primer helps smooth and extend its already long wear. One tube yields a fair amount, though it won't last long with daily use. SPF 20, though a big bonus, could be higher. Those wanting medium- to full-coverage may be disappointed.
Reviewed by the Total Beauty editorial team on 10/05/2007

How we review products
Nice But Not Necessary for My Skin

I like the SPF factor in this tinted moisturizer. Also good is the selection of shades and the fact that it contains sodium hyaluronate, allantoin, and Vitamin C to nourish while it covers. It isn't heavy on my skin and does moisturize, but it's simply not great. My usual foundation, Lancôme's Dual Finish Versatile Powder Makeup, leaves me looking almost (emphasis on ALMOST) flawless (of cours...read moree it's applied over another moisturizer). I find this unnecessary; when I leave the house, I reach for Lancôme (or another, depending on the season).

Not my favorite!

When I got this, I became extremely upset when I squeezed out the first of the product had broken down chemically! The oily-like substance squirted out all over my hand, so I had shaken the tube only to find out that the moisturizer made a sound like a thin-liquidy substance. Not exactly what I had in mind when buying a tinted moisturizer. I tried shaking the tube to mix the product, but I still d...read moreidn't like how it went on my skin. I thought maybe I just got a bad tube, but after a while I learned from other people they had experienced the same thing. I heard a lot of hype about this product, but I was disappointed to learn the rate of manufacturing error was so high with this product in particular.

Fantastic

I love this tinted moisturizer. It is extremely comfortable to wear, I don't feel it on my face at all unlike many other tinted moisturizers and foundations. It is perfect for dry, normal or combination skin. Of course, you are not going to get a lot of coverage, so if you really need it, this is not the right product. To me it is great, as it covers and blurrs minor imperfections well, leaving sk...read morein looking fresh, natural and slightly dewy (not greay at all). This is ideal for every day use, my skin loves it, and looks great, hence it is worth the price. If I get a blemish, which is extremely rare now with this moisturizer, or some serious dark circles, I just go in with a bit of Secret Camouflage, sometimes a tiny bit of powder to set if I'm feeling oilier, and, bam! Perfect skin ALL day, even in summer. Travel size one (1oz lasts me at least 4 months). Plus, it has good range of colors to choose from.

Back
to top