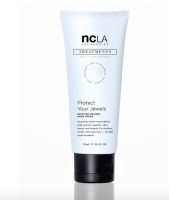 NCLA Protect Your Jewels
As low as
Good, hardworking lotion

I realize that I like this almost by default. I haven't found that perfect hand cream yet -- I like them super rich and hydrating to ward off old-lady hands. This one is definitely thick and absorbs quickly, which I appreciate. The scent is fine -- I don't love it but it's not off-putting either. But I just wish it had some other quality that would make me love it. For such a thick balm, it doesn't make my hands luxuriously soft.

Hydrating, a Bit Thick

This does a decent job hydrating my hands but I wasn't blown away the by the look and feel of my hands after using this as I am with other hand creams. It's a bit rich for daytime usage, which is why I made it my bedtime hand cream.

Back
to top