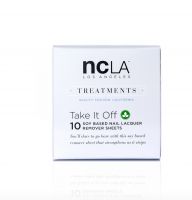 NCLA Take It Off
As low as
Amazing, chemical-free nail polish remover

I love these for so many reasons -- convenient, on-the-go nail polish remover that is insanely effective without all the crazy chemicals. There's no harsh smell to this, so I can use it indoors (maybe even on a plane) without people grimacing. It leaves my hands oily instead of dry. Though you do definitely need to wash your hands after using these. My only problem is the price -- $19 for 10 sheets. :(

Polish remover + moisturizing cuticle oil, LOVE

LOVE this! So useful and convenient. I had been trying to take off some red nail polish for the longest time from my last manicure. These wipes did the trick! It does not smell as strong as Cutex nail polish remover either. It left my nails with a moisturized oil feeling like I had just use cuticle oil.

Solid polish remover

One sheet removed ALL of my nail polish. I also love that -- unlike most nail polish removers -- this product doesn't smell chemically or feel like it's stripping my nails of more than just polish. It's a bit greasy but the benefits outweigh this slight flaw.

Back
to top