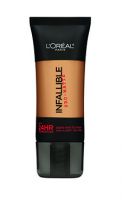 I HATED IT!!!

unlike most reviews on this product, mine is going to be a rather negative one. I tried this foundation out a few hours ago at the store and makeup artists matched me with my shade and all that. within a few minutes the foundation turned literally white on my olive skin, it changed color completely! It just really didnt work for me.

You need this foundation

This by far is one of my favorite foundations, This is a full coverage matte foundation with a great price point. So if that is what you are looking for you need to buy this, asap!

My favorite, beats high end!

I have incredibly oily and acne prone skin. That means I need something that will stay matte, high coverage (for spots) and last. This product is amazing for that. It has great coverage and it really lasts. The only con I would say is it can be hard to color match, and the darker tones get a little too yellow.