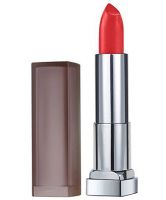 Surprised not more reviews on this....

Everyone on Youtube raves about this so I'm surprised I'm the only review on this product for now. I love how this lipstick is matte but also moisturizing at the same time. It doesn't emphasize all the cracks and fine lines on my lips. The colors are super nice and really opaque. However, I don't prefer the texture on these because they're quite slippery so they move around a lot and tend to bleed outside my lips so I will need a really good lip pencil for this.

Love this lipstick

I'll buy other lipsticks and I'll always end up back to Maybelline. It's got a matte finish but not overly drying, it's actually creamy. They have a wide selection of colors to choose from.

Does what it says...creamy and matte

These lipsticks do live up to their name, they're creamy and matte. There is a nice selection of colors and they're widely available at the drugstore. They are not especially long-lasting but they make no claims of being so, so it's forgivable. They are very creamy and do not dry down like many matte lipsticks. They are also very strongly scented like the rest of the Maybelline lipsticks, which I don't like that much. For the price, though, I can get over it.

Back
to top