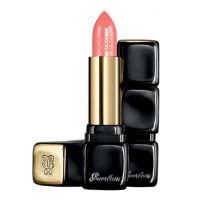 GUERLAIN KISSKISS - PRECIOUS COLOURS SILKY AND DELICIOUS

Really nice lipstick, glides smoothly over the lips and is a good moisturizing formula. No glitters (luckily), but it does give your lips a nice "sheen". Repurchased in different colours because of the nice feeling and lovely perfume. Case is a little bit too bling but nevertheles a feminine, sensual design. I purchased this online at Sephora in the limited edition Butterfly collection. I chose th...read moree 515 shade. So happy I did! The color is so perfect for days when pink is just not quite dark enough, red is just too far gone, and mauve won't fit in. The feel, texture, moisture, cream amount to me is just the right recipe. Anyone who knows and loves the pleasant light fragrance of a Guerlain lipstick is going to love this one. It is not an over-powering smell, but rather a smell that lets you know you are applying a lavish, quality product from Guerlain. If you can still find this color, buy it, you will be glad you did. I have it in colour Rose Ingenue which is nice pink-brownish colour and it is ideal to have with smokey eyes. The natural colour of my lips is very red and this lipstick manages to cover my natural lip colour perfectly. It lasts long. When you apply it, the texture is smooth and silky and it seems as if the lipstick moisturizes your lips, buf after some time the lipstick becomes very dry and it will, if your lips aren't smooth, accentuate the lines on your lips. I was so HAPPY to discover these lipsticks online for a fraction of their retail price! I could never have afforded to buy them at full price and I was always curious about them. So I really took advantage and got 2. I am so glad I did, these are divine! I LOVE the colours, I got 501 strawberry something and 502 strawberry candy or pink candy or something like that. The candy colour is GORGEOUS GORGEOUS GORGEOUS, a sort of sheer like pinky colour with different coloured shimmer, I think it would go well with any kind of makeup and any colour lips or skintone as it's quite sheer and nudish. The 501 strawberry colour is also nice, it's more pigmented than 502 so it can only go with certain kinds of makeup, I think. It's a light strawberry shade. These are really smooth and creamy although I do find that they are a bit drying after they wear off or you take it off, so in that aspect I prefer MAC. I'm absolutely CRAZY about the taste and fragrance though, I LOVE the taste and fragrance and I will put this lipstick on just so I can lick it, even when no one is going to see me! Don't care too much about the packaging though, it's quite lovely but I find it too big and clunky and heavy to be really practical and carry around on the run. I like the clunking sound it makes when I open it though. It's taken me over a year to decide, but other than the beautiful color selection—and some colors are indeed magnificent— I can not find much to recommend about these lipstcks. I have Sexy Tango, a gorgeous corally red, and Beige Strasse, a too-frosty-for-me peachy copper. The formula is a bit drying though not waxy, and the signature Guerlain violet scent is overbearing and irritating to my throat, and it doesn't dissipate with time. Some eau de parfum I could name should last as long as this lipstick's scent. The much admired, dowager friendly tube feels nice in the hand, but for my taste it's an over-designed clunker. If these were unscented I'd be more forgiving of the somewhat minor flaws, but for the high price there are other lipsticks I feel better about buying. I have always loved Guerlain lipsticks and used them regularly until about a year ago when they discontinued my favourite shade and I could find nothing to replace it with. The appeal of Guerlain has always been the fact they carry a range of orangey shades which have no pink in them (I have wasted shed loads of cash on lipsticks which look orange/peach in the tube and ALWAYS go pink on me!) and the wonderful tube with the little mirror on the end - priceless! So why oh why did they have to discontinue the most commonsense packaging in the world? Having read the impressive reviews on MA I thought I'd investigate this new line and the completely new range of shades. I was not disappointed. I bought "Fauve Seduisant 546" which really complements my red hair and hazel eyes. Its a gorgeous peachy terracotta shade which goes on with a beautiful shine. Subtle on its own - it 'pops' with a little clear gloss over it. It comes in the most extravagant gold packaging you'd be proud to pull out and apply anywhere! (Even if there is no mirror in the bottom of the tube for which I removed 1 lippy in the review!) The texture is very soft - its a sort of gel/creme and what really surprised me is its incredible staying power without drying. It faded evenly and left my lips really soft with a light stain. Overall I was very impressed with its performance and value for money.

Guerlain KissKiss

I LOVE these lipsticks. My first KissKiss was color 666 - a raspberry color. It was discontinued but I am still in love with KissKiss because of the colors and creamy smoothness.

ALL-time Favorite Lipsticks

Yes I have a drwerful of lipstick from every maker, but Guerlain KissKiss lipsticks are my favorite. They are silky in texture and come in gorgeous colors. This is the only lipstick I ever use up.

Back
to top