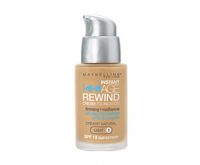 Decent

This is an okay foundation. It has pink undertones to it which I don't like. Other than that, it is easy to blend and has a nice consistency to it. The pump makes it a lot easier to use than other foundations with pumps.

pretty nice :)

This foundation is really good for the price...it goes on smooth and creamy, with awesome coverage, but not too shiny, and it blends super well. It also has a pleasant vanilla-y scent to it. My only gripe is that it doesn't last as long as I'd like...by mid afternoon my nose is all shiny and I need to go powder it. Overall though, good foundation :)

Awesome :D!

I have bin through ALOT of foundations lately and I have to say this one is deffinetly the best foundation I have ever tried! It has a medium SPF of 18 it has amazing coverage but still looks really natural it isn't cakey or greasy (I have combination/normal skin) and ok I know this just sounds so wierd but it also had caffeine in it which is to "awaken and firm tired skin" but hey ho it works it ...read moremade my skin feel awake and firm and it also feels smooth! :D Ok now onto the bad things.. I got this foundation in the lightest shade they had (creamy natural light 5) but it still seemed just that tiny tiny little bit to dark for me. ( I have incredibly pale skin :( ) But overall this is my favourite ever foundation and the best I have ever used and it makes my skin look naturally awesome and flawless it is only 30ml but it still lasts a very long time so it is very good for the price. I would deffinetly repurchase this product again and I would recommend it to anyone (but an enemy lol :D) Xxxxx.