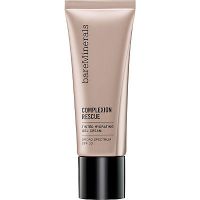 08 Spice

I tried this product because of the claim that it is HYDRATING right in the name; this product delivers! I tend to get oily ONLY on my forehead and my cheeks and chin get dry and wanted to test this product out and see if it would keep my skin feeling hydrated without getting cakey. I tried it out this morning for the first time and I love it! I squeeze about a dime size amount onto the back of...read more my hand and started dabbing it onto my forehead, cheeks, and chin and started blending with my fingers (that's what the packaging says.) It is a creamy formula that feels great on my skin and doesn't feel runny or TOO thick. It was a pretty light layer and it did even out my skin pretty well with just a little bit but with the redness I have on my face and especially my cheeks I did another coat. 08 Spice seems to work perfectly for my skin tone as I have a tan skin tone with plenty of unwanted red in there; this shade seemed to hide all my redness while still maintaining the color of my skin(and not making me look like I applied another face) but providing great coverage that is buildable! This shade is best suited for tan to dark skin with golden tones; I don't really know if my skin has golden tones but this blended beautifully on my skin. As with all other Bare Minerals products you're going to pay over $20 for this foundation, but that is pretty well priced in my opinion as this foundation has OVER a full ounce of product in it; I also like Bare Minerals products as they are on the high end side but are not nearly as pricey as some of their fellow competitors. On days when I do not want to wear much makeup but still want to know that I have something on I think this is a great foundation to reach for; it is a lightweight formula but provides great coverage and as I said it is build able which makes it even better. I love the shade I picked as well, great buy! I will definitely repurchase when I use up my Spice!

Hydrating is right!

I bought this thinking it would be close to a BB/CC and it has succeeded my expectations. This is not like your typical gel creams. It delivers pigment in such a way that you really don't have to worry about a misstep with color. I like this one a lot better than the Brightening Serum. If you have oily skin, be cautious with this as it might make you look like you have over oily skin. In orde...read morer to help you with this, make sure that you are using a finishing powder (mineral veil) to help with that oily look. Keep in mind that there are only 10 shades, but don't let that deter you! You can always mix the shades for your perfect shade! Don't think you have to use their brush in order for you to get the airbrushed look! Use a brush that is kind of fluffy to help smooth this baby around! This is a summer must!

Winning with Wheat

I've been using complexion rescue for about a week now and I love it! I don't like the feel of heavy foundation, but most BB/CC creams just don't leave a nice finish or have a nice smell. After reading many reviews I decided to try BM Complexion Rescue. Sure glad I did! The gel is so light weight and seamless on the skin. You are left with a satin finish. If you have blemishes you can blend in a ...read morelittle concealer. Last weekend I had a wedding to go to. My "going out" foundation is normally Makeup Forever HD. Instead I wore only BM and set with a powder on my T-zone. I've never had so many compliments about how good my skin looked (I have acne prone skin). SPF 30 is a bonus and you can't smell it! BM recommends a brush, but fingers work just fine or you can set with a Beauty Blender. Definitely a repurchase and I want to explore more Bare Minerals products.

Back
to top