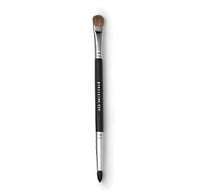 Great quality but it doesn't come cheap.

BE makes nice brushes with good bristles that don't really shed much. That being said they are fairly pricey. This brush has a pointed end that is good for using liner or precision work with shadow. It is still a bit big for ultra fine lines, but if you are doing something like a smoky eye this is the perfect brush. The other end is just a good general shadow brush. If you want to get a sligh...read moretly better value I recommend picking up a BE tutorial set. My fave is the BE Rocker Eye Tutorial. It comes with a very similar brush, 2 eyeshadows and a liner shadow for 10 bucks more than just the brush. The Foiled Eye Tutorial comes with a similar brush and 2 eyecolors for just 4 dollars more than just the brush. Still if you need to beef up your brush set, Bare Escentuals does deliver quality.

Geat Brush!

This is my absolutely favorite eye brush ever! I can do everything with this brush, pack color on my lid, do my crease, highlight and outer corner. I have many other brushes but I use this one the most.

So many uses...

I LOVE this brush! I use the flat end for all over eye color and blending and I use the pointed end for highlighting my brow bone and also for getting color into my crease. I works great!!

Back
to top