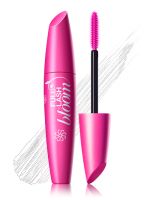 Very disappointing :(

I have heard mixed reviews on this mascara and I was just hoping that it would work! I really like a natural looking mascara for days when I am not doing a full face. I found a great one by WNW that I have been using, but I was so intrigued when I saw this. The packaging, although pink, which I love, is a bit whimsical for me with the "hand-drawn" flowers on the side. However, the most important p...read moreart is how well the product works. This product left my lashes pointing in all directions; it give me a little bit of definition but nothing else - no length, no volume and lashes that appeared out of control. In addition, I was also getting some mild flaking and smudging. I used it for a week to be sure that I didn't like it and off in the recycle bin it went. What a disappointment!

My Favorite CoverGirl Mascara

I saw the ads for this mascara with Katy Perry, and even though I know that they don't just use the advertised product on the models, I was so intrigued by the photos I had to try it out. I love that it doesn't giver harsh, dramatic lashes, which I prefer for night or special occasions. This is the perfect more natural looking mascara for me for school. My lashes look soft, curved, and like they a...read morere naturally that long and black. I also like the cute packaging. Another great thing about it is the longer, narrower brush gets all the lashes on the outside and inside corners of my eyes. I feel like I look like a more natural version of Katy Perry from the magazine ads. A great buy and my favorite CoverGirl mascara.

Worthless

I purchased this because it was in a two pack set, which is great because both my mom and I needed new mascara. This product is absolutely worthless. The brush bristles hurt my eyelids so bad that it becomes a test to see how long I can apply the mascara before it becomes too painful. The formula sucks...no volume, no length, no nothing. I haven't used Covergirl in ages and now I remeber why.

Back
to top