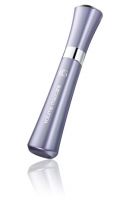 A PERFECT 10!!!

I can't believe I found everything I need in a drugstore mascara! I'm usually purchasing some high-end product but after liking the Queen Collection's lipsticks, I figured I would give this a try AND I'm in love with this product. It gives my lashes really nice definition, length and adds plenty of volume...I look like I'm wearing falsies! I will definitely be purchasing this again.

Replaced Shiseido for this!

This mascara does everything that my high-end masacaras do -- or even better. I have used Dior, Shiseido, Clinique, and Estee for many years but the Queen line really attracted me. I bought it at Target for about $7 or $8 and it's been wonderful since my first use. It doesn't clump, it lengthens and really makes my Asian eyes pop. I've had this mascara for almost two months now and I haven't touch...read moreed my good old Shiseido since. Shiseido was my #1 brand for mascara but Queen's mascara has replaced it!

I highly recommend it!

I love this mascara! I just bought it on a whim, but it is amazing! It lengthens, volumizes and it easy to put on. I normally put a layer of waterproof mascara on top of it to waterproof it. I also think the bottle is cute! It come of easily too. I have a friend who only uses Lancome and Estee Lauder mascaras. After using this, she switched over to Covergirl mascaras. It lasts a while too. I've experienced no smudging. I highly recommend this!

Back
to top