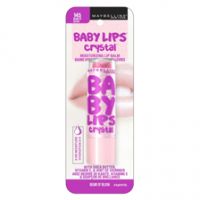 Love everything about these! My favorite "Babylips" line so far! Lips definitely look and feel moisturized! Getting backups...

I am so super excited to be the first one to be reviewing these! First of all, I would like to say that I'm a big fan of "Babylips" and I collect them religiously. Fan or no fan, I think that it's still important to be objective when reviewing any product. I would never say that I like something if I didn't actually like it and I always try to stay as fair as possible in all my reviews...read more. So even though I love "Babylips", for example, I definitely didn't enjoy their "Dr. Rescue" line because I didn't find those moisturizing at all… I would even go as far as to say that they would dry out my lips within an hour of application. Don't know if that had anything to do with the amount of menthol in those, but those were a complete "miss" for me. Now these are a BIG HIT for me, personally. I think that this line is my favorite one so far. I purchased all six shades about a week ago, and the first day I tried these, I told myself that I will definitely need to get backups when I see them on sale. So… I don't even know where to start… Seriously… I feel like I wouldn't be able to do them justice without swatches and my excited face next to every swatch! Before I list the colors I would like to say that these are all very sheer, so if you're looking for a lot of pigment – these aren't for you. They are beautifully sheer on the lips, with just a hint of every color, and a wet looking finish. When I say "wet", I don't mean sparkly o glossy – I mean they make your lips look wet and juicy… I really don't know how else to put it – they just look amazing and natural. You know how you want your lips to look moisturized but not glossy? This is what you'll get with these "Babylips". And every one of them smells deliciously different, by the way! Anyway, here are the six colors I purchased: - Crystal Kiss (#130), very soft baby pink, grapefruit scented; - Gleaming Coral (#135), very sheer, beautiful warm coral, smells like sweet clementines; - Pink Quartz (#140), sheer light fuchsia pink, berry scented; - Beam of Blush (#145), sheer hot pink, smells exactly like bubblegum; - Mirrored Mauve (#150), sheer muted mauve, smells like "Black Cherry" ice cream; - Twinkling Taupe (#155), sheer red based light brown, smells to me like cocoa and coconut. I honestly love every single one of them. They each give a unique hint of color. I am in love with the finish they leave on your lips. I find it difficult to explain but it's sort of more wet than a regular lip balm, but not as glossy or in your face as a lip gloss or some kind of sparkly tint. These do have very small sparkles in them, but they are absolutely undetectable on the lips and you definitely don't feel them or anything like that. As with all "Babylips" products, you do have to reapply them every couple of hours or so or when you eat. For myself, it's not a problem at all – more like a treat, because I love them so much. So don't expect great staying power out of these. However, they will definitely stay on if you're not doing a lot of drinking or eating and while they are on – your lips do feel the moisture. Totally opposite to my "Dr. Rescue" experience. And when these wear off, they do so very evenly, without leaving any weird residue on your lips. Love, love, love!!! I would recommend these to anyone and everyone who is looking for a lip balm that's not highly pigmented and that will make your lips feel and look extremely moisturized! ;))

Baby lips

Makes lips soft and smooth!

In love

I love these better than the eos, these are so creamy and make your lips so soft. I love all the different types of flavors, i love the peach one. Smells amazing, and adds a hint of color.

Back
to top