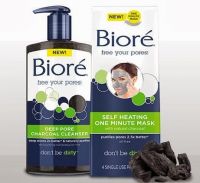 Excellent Way to Clean Pores without Stripping Skin!

For the last few years I've used DHC's "Charcoal Shower Gel" to cleanse my skin. Charcoal really seems to clean out pores well, but I fear DHC has discontinued it. Enter Bioré with their excellent "Deep Pore Charcoal Cleanser." It makes bold claims at leaving your skin 40% more pristine than with other cleansers, but it does NOT disappoint. I was impressed on several points. While it is a tra...read morenslucent grey in color, it won't leave your bathroom linens black or your face/neck with an ugly, hard-to-remove dark residue around crevices, as some other brands do. My skin is combination, but this did not strip it or irritate it in any way (sorry for the reviewer who had a bad experience). It simply cleaned it EXTREMELY well. With consistent use, I've noted that my pores are not as clogged and almost invisible. This wash leaves my face soft and supple--an enjoyable, wonderful way to take away makeup, grime, and oil.

Half-Way Through Bottle- It's Okay but not Amazing

The score of 6 may not imply that this cleanser is a staple on my vanity, but I can assure you it actually is. With combination skin, I've tried a bunch of different cleansers, treatments, masks, etc. and come back to this one because it doesn't actually do much. It never irritates my skin or removes too much oil. However, it also hasn't removed any impurities/blackheads. So, I had to deduct p...read moreoints. This cleanser is great for me during the spring/summer because it does remove some excess oil, but I avoid it during the winter. Now what is really fantastic is that this bottle LASTS FOREVER. I've had it since about October, and I'm not even through with half of it yet. The best way to use this is to apply it to your face, let it get foamy, then leave it on for a few minutes while you do other things, wash it off, and carry on with your routine. It leaves my skin feeling great, and I just follow up with my witch hazel toner, serum, and moisturizer.

Best cleanser

This is a great product. It gets every last bit of dirt and grime and oil out of your pores. Yet it is gentle, and doesn't strip your face or make it uncomfortable. It fights acne and deep cleans with natural charcoal instead of chemicals, so it is easier on the skin. It also feels wonderful on the skin - it tingles refreshingly and cools the skin, all with a wonderful foam.

Back
to top