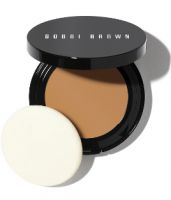 Great texture, poor value

This foundation looks like my skin and is a PERFECT match- loved it when I first put it on!! However it transfers easily and doesn't last long. The packaging makes it easy to carry in my purse, so I began reapplying throughout the day. But then I realized it was not worth it b/c I was going through the product rather quickly. The amount of product seems to have decreased significantly in the la...read morest few years. I still have my previous case and the new one is much, much smaller. This seems like the experience I tend to have w/ BB foundation and concealers. They look and feel great, but poor value b/c it doesn't last long and transfers quickly!!

Covers Well

I have melasma from being pregnant after I put tis on my face looks almost airbrushed. It does transfer off unfortunately. I still love this foundation. Very good coverage but not heavy feeling.

Staple Foundation, except for winter

This is THE foundation for me. I have very pale skin (I'm a 0 in the Bobbi line, sometimes 00) and a little bit of yellow (Italian background). This really covers up the redness I'm prone to on my cheeks and chin. I usually have very oily, blemish prone skin and this works well for me. I still need to use a concealer with this because it doesn't TOTALLY cover up all redness, but I use the Bobbi T...read moreouch Up Stick (formerly called the Blemish Stick). For some reason this winter my skin is awfully dry and flaky and I don't like how matte and pale I look with this foundation on. So I switched to her Foundation stick, which is a bit creamier and doesn't make me look so dry in this harsh winter weather. But generally, I love this. I always have a backup compact in my makeup case. I use it almost daily and build up on the coverage quite a bit and I say it lasts 4-6 months.