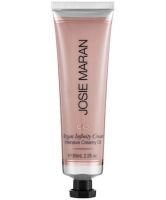 Josie Maran Argan Infinity Cream Intensive Creamy Oil

If it were possible to completely bathe in a product, this might very well be my choice. I found this in Sephora and kept going back to it. It smells amazing and moisturizes beautifully. I think the price is a bit high, but even still, I'd buy it 2 tubes at a time. Alas, others must feel the same way I do because it was sold out. This is great on hands and cuticles and makes late Fall skin feel...read more smooth and healthy. As soon as it is back in stock, I am going to get some for the super dry, Winter months. I only wish this came in a bigger size.

creamy oil

got a sephora sample of this cream after trying the plain argan oil with the dropper application. I love the consistnecy of this as the winter months are approaching.. It reminds me slightly of J&J baby creamy oil, but much lighter. I have not used it on my face because my super sensitive skin bigs out easily, but i love it on my hands and legs. It gives them a luminous glow from the hydration,...read more without the synthetic shimmer that many lotion products have, Feels luxurious and mousturizing, although I would not buy it full size only becasue of the price tag... Ill stick to the basic J&J that I can get at walmart or traget for less than 10 dollars..

this is a multi use

I love this product I got it in a gift set and I loves everything I have in this brand. I use it anywhere I feel like I have a dry spot and it's done great especially on my cuticles. I've used it on my feet everywhere even used it on husband who is diabetic and has super dry skin. I can't recommend this enough for dry skin.

Back
to top