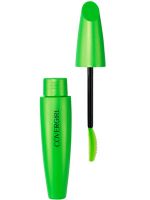 Does What It Promises

It's virtually impossible to have clumps with this new product! I don't need the lash/brow comb I normally have on hand when applying mascara. It separate lashes quite nicely and adds a good deal of volume. As a daily-use mascara, however, I'll stick with Benefit's "They're Real!" or some other brands which highlight my eyes a little more effectively. I didn't find this exceptional.

Not great. Doesn't build volume.

The brush is very stiff. If you accidentally bump your eye lid, you'll definitely feel it. This is great at not clumping but it's not a big volume enhancer. You have to add multiple coats if you want to build any volume. I will not purchase this again.

Really No Clumps

This green-tubed mascara had been all the rage last year, and was recommended to me by so many of my friends that I just had to try it. I was unsure whether it was as great as everyone told me it was and whether I would like it because I'm not generally a fan of Covergirl products, but I was pleasantly surprised. The packaging is really nice. I really like the bright green color even though some p...read moreeople find it gaudy and chunky. But the best part of this product has to be the brush. It's slightly curved so it hugs the lashes and makes me feel like I won't poke my eyes out if I'm try to really reach the roots, and it really separates every lash and spreads the formula well. I think it is the biggest contributor to this product's clump-free performance. The plastic bristles are also the perfect length, and aren't so hard that when I wiggle it near my roots, its painful. The brush is near perfection. The formula itself is the perfect consistency. It's not too watery so that it doesn't do anything, but it's not so thick that putting on mascara is annoying and tedious. The color is really, really black, which I like, and there are honestly no clumps at all. This mascara doesn't build volume as quickly as, say, Benefit's They're Real! mascara, but it doesn't clump, looks even, and the color is very rich. Also, this mascara doesn't smudge nearly as bad as Benefit's They're Real! or most mascaras I've tried, which is a huge plus. The only complaint I have with this mascara is that it can't really hold a curl like other "water resistant" or "waterproof" mascaras, but that's not a reason not to try this mascara unless holding a curl is your first priority. Overall, I really like this mascara for natural or casual looks. I might go for something with more volume and curl hold for more dramatic looks, but I can definitely see myself buying this again because it has no clumps, the brush is amazing, the color is true, and it doesn't smudge.

Back
to top