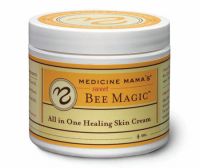 Medicine Mama's Sweet Bee Magic All-in-One Healing Skin Cream
As low as
Amazing

I had developed some sort of rash on my eyebrows ...dry and flaky which was a bit inflamed and seemed to come out of nowhere. I dont have sensitive skin nor have I ever experienced this, but I was a little hesitant to go to the dermatologist in fear that they would recommend something too strong. I did some research online and saw review after review about this cream and egyptian magic...I got bot...read moreh. I tried this one on the dry spots and they were gone in 2 days. amazing. Now I just use this on elbows, on my face (though I have to powder after so there's no shine), tips of my hair...it's like an all purpose salve that I highly recommend. There is no real scent to it so you can use it in excess or as little as you want ( a little goes a long way). I definitely recommend to anyone as it heals better than even neosporin or anti bacterial creams. EXCELLENT!

Amazing multipurpose

Love this!! I was originally looking for the egyptian magic but my whole foods didnt carry it. I had heard that this was pretty much the same thing but cheaper so i picked some up to try. I am totally impressed and this has taken the place of many other products. I use it as a facial moisturizer which at first i was scared of because the bee magic comes as a kind of block but as soon as your finge...read morers touch it it melts to an oil. I didnt want it to break me out but if anything it has helped clear my face and keep it soft and glowy and NOT greasy which was important to me. i can put it on before doing my makeup and it looks perfect and not crazy shiny. i also use it as a highlighter over makeup sometimes on my cheekbones and on my lips as a super moisturizing lip balm. Another way i have used this is on my feet at night. Just rub it on and cover with a pair of socks and in the morning there are no cracks or rough patches. Can also be used (sparingly) on the ends of damp hair after a shower which i find helps keep my hair frizz free. I also use on my eyelashes at night when putting it on my face and ive noticed they are growing more and stronger. Ive heard a lot of ways people use this product but these are just mine =) overall i would definitely recommend. A great product to have around and im very happy i bought it!

Back
to top