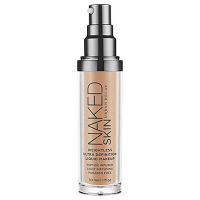 Had high hopes...

On Ulta's website everyone seems to love this. My coworker said that this didn't work for her because it applied too greasy which I did not find this to be the case for me. It has a matte finish when I applied this but once it sets, it turns into a satin finish. I don't like the coverage on this. It has really light coverage and I didn't find this to be buildable. I can get this to provide a mediu...read morem coverage at the most with three layers on. I like how this feels really light. It has a really watery consistency so be sure to shake, shake, shake. The packaging is sturdy but I don't like how the color is not accurate to what's in the bottle. I had to switch the color after I got it in too light of a color which was the color 2. There was an Asian lady featured under the color so I assume that that was my shade since I'm also Asian. I do not know any Asian lady that is that white. That color is more suited towards a Caucasian woman. A lot of people find that they like the shade range on this. I highly disagree on this. Although on the website it looks like there's a lot of shades to choose from, there's really not. The colors are either too light, too dark, too pink, or too yellow. I hate that. This is not the foundation for neutral skin tones if you're wanting a perfect match (unless UD comes out with more shades). I wanted the color 3 point 5 (since TB won't let me post the exact shade name) but it was suited towards cool tones which I'm not. The next color up was 4 which is for more yellow to olive skin tone but I ended up buying this color since it was close enough. It's still a tad too dark but I can make it work. Now you can see why I struggle with finding the perfect match. This foundation does last pretty good throughout the day but it doesn't really do much for my skin and make me look flawless and natural. I just don't like how it sits on my skin for some reason. It's almost like having nothing on and why would I want that when I'm trying to achieve perfect skin with foundation....

Lovely

This product allows for differing amounts of coverage and comes in an incredible array of colors. I really liked that it blended flawlessly into my skin and didn't feel heavy at all. I only with the accompanying brush was a little less pricey because you really do need the brush to get the perfect look.

Makes skin super soft.

A little over 2 months ago I finally made the plunge to purchase a high end foundation, which was the Urban Decay NAKED SKIN Foundation. I've been hesitant to purchase a high end foundation because of the price tag....this one was $39 plus tax (for a 1 fl oz bottle). You may be wondering why I wanted to purchase a high end foundation if so many drugstore foundations are good enough, well if you...read more remember my post last year on My LOVE HATE Relationship With Drugstore Foundation and how I never find a shade that actually matches, well this prompted my interest in high end foundations! This particular foundation has different shades geared towards different skin undertones so I believe anyone from different skin colors can find a perfect shade! I swatched some of the colors in Sephora and was able to find a perfect match instantly! The Urban Decay NAKED SKIN Foundation formula is a bit liquidy but it applies so effortlessly and literally glides on the face in a few simple dabs/strokes. The formula is a mixture between matte and dewy so in my opinion it really gives you this natural fresh look. The foundation dries fairly quickly and makes the skin feel super soft, I do feel that because it dries fairly quickly I did have to work the blending a bit faster than some other foundations that I've tried. Also, the foundation does last pretty much all day long while looking at good as it did when you first applied it. The foundation does have a very strong scent to it, it does fade once the foundation is applied and dried, but unfortunately some of the ingredients in the foundation and/or fragrance irritated my skin and caused a few breakouts so I ultimately made the decision to return the foundation after i realized it caused a reaction on me. I am disappointed because the foundation looked great on me (formula, application, color selection) but I'm not going to use a foundation that breaks me out. Do I recommend this foundation? Absolutely YES 100% but I recommend you visit your local Sephora and get a small sample (something I did not do) so you can test out the formula, the color, and ultimately if it agrees with your skin then it's worth the price tag. I do have sensitive skin so ultimately this did not work out for me, but everyone's skin is different and many people haven't had a reaction from it.