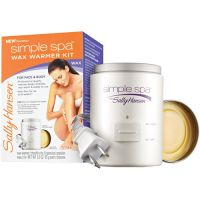 Sally Hansen Simple Spa Wax Warmer Kit
As low as
Ugh!!!

Like the review above, it takes FOREVER for the product to melt. After waiting for 2 hours I finally gave up (even though it didn't melt all the way yet). I don't have the time and patience. I would have loved to heat this in the microwave just to make it melt faster BUT the can is metal! I was so frustrated with this product that I returned it right away. If I have to work harder than the instructions mention just to use this product, forget it!

Wax is great....warming it though...

I recently bought Sally Hansens simple spa wax warmer kit. It cost about $20.00 at my local ULTA. I was very excited about this product and quickly plugged it in when I got home that day. In the directions, it says it takes 25 minutes to warm the wax so you can use it. IT TOOK MY WAX 5 1/2 hours AND I BOILED IT IN WATER TO FINALLY GET THE WAX TO MELT! the warmer is self does not actually warm the ...read morewax! However, once I did get the wax to a consistency I could use it, IT WAS GREAT! No strips AND doesn't irritate my skin near as bad like when I go to my nail salon. I would give it a try but once you get the wax to warm, try keeping it warm or you will have to reheat it every time you want to use it.

Back
to top