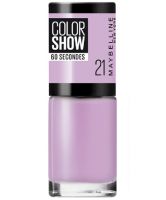 Nope

Yeah it's "chip resistant" alright, because it "Smushes" you apply the first streaky, thin, translucent coat and let it dry. Then you apply another coat and like the color only to realize after all is said and done you go to tie your shoe, look down at your nicely painted nails and see that your nails now have no color on the tips because the polish has been pushed down and is now in a nice lump in the middle of your nail.

Great Color That Lasts Forever

I have the Green With Envy, Pedal to the Metal, and Bold Gold polishes, and I have to say they might be some of my favorite polishes. Though the quantity of polish they give you in a bottle is less than other polishes, two coats without top or base coats lasted 9 days without any chipping, making it a good value, as well as saving me time and money. Also, the polish dries really fast, and the colo...read morers are amazing. The only complaints is that the brush with the cap is a bit awkward, lacking the control of other polish brushes, and the first coat of the nail polish is matte and streaky. The second coat of color usually fixes this, but it takes a while to get the hang of it and achieve the perfect manicure.

Beautiful colors

These are one of my favorite nail polishes, they have such pretty vibrant colors. Its easy to put on and some of the colors I find only need one coat and they even look great without a top shiny coat. These last pretty long too and I am pretty active with my two boys, so the fact that they last through all that I do is pretty amazing. I have a few of these but two of my favorites are iced queen...read more and coral crush. It can get a little streaky after a while so you have to shake up the bottle real good but other then that these are great.

Back
to top