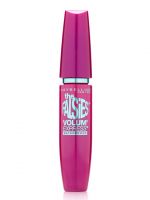 Dramatic Curl and Volume

This mascara is great for getting a natural curl and definition. It lasts extremely long, like it would last you a lifetime if you never washed your face kind of long. Which I actually find is one of the downsides of it. My lashes are very thin and delicate so they are easily pulled out if I rub them. I love the look it gives my lashes. It helps to fan them out evenly and define every lash, as wel...read morel as volumize, very dramatic. My problem is when I have to take it off, it takes me sooo long to get it all off. If I take it off at night, I will wake up in the morning with mascara smeared beneath my eye. And since it is waterproof, its very hard to come off. I am thinking of trying the regular version instead of using wp, just because its a lot of strain on the skin underneath my eye. Don't want to get any wrinkles! Amazing price though for the gorgeous lashes you will acheive with this mascara =)

Stays and stays and stays~

If you have oily skin and have always had trouble with mascara, give this one a try. It is only about 5 USD for a tube. :o I think this is the perfect mascara to test your eye makeup remover against, because hot dog, it really does not budge. It does keep my curl all day if I use a curling tool! I also haven't noticed any flaking at all. I have naturally stick straight lashes, so I have not noti...read moreced any curling, but I do agree that it is pretty lengthening and thickening without too much clumping. The formula does not irritate my eyes, too. I guess the only downside to the mascara is that while it totes a false eyelash effect, I don't think it looks anything close to being a false set of lashes. However, that does mean you can wear it daily without looking like you're ready for the drag show!

Big, Dramatic Lashes

Right now, this is one of my favorite mascaras. True to its name, it gives that full, dramatic, plush effect that you get from a good set of false lashes without the hassle of false lashes. The brush seems to do it all; It curls, defines, lengthens and it gives great volume. Watch out for a little flaking though. I sometimes have to run a Q-tip along my under eye to remove the flakes this mascara ...read morecan leave. But that seems to be an issue with most high-drama mascaras. Really this is a great alternative to mascaras twice its price and to the annoyance adhering false lashes.

Back
to top