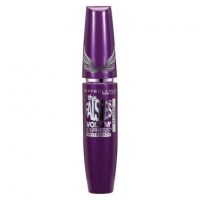 More Gentle of the Waterproofs

I loathe waterproof mascara, and avoid it whenever possible. To me, it always feels like I'm swiping an irritating glue all over my lashes. But as far as waterproof mascaras go, this one is pretty gentle on my eyes, and the delicate skin around them. I bought this mascara for a funeral, and it did it's job, and stayed in place, but over all, I vastly prefer the washable version of falsies.

Not one of Maybelline's best

I bought this when it first came out since I'm a huge Maybelline mascara fan. But it wasn't as good as I expected. It didn't add any volume or thicken my lashes or make them flared out as promised on the packaging, and it tended to smudge onto my top eyelids. But it didn't clump at all, which was a good thing. I also kinda noticed that it stung my eyes quite a bit when I removed it with my usual m...read moreakeup cleansing oil, so far it's the only mascara that's ever irritated my eyes like that so I guess I won't be buying it again!

Review subject

This is just... okay for me. It doesn't do anything spectacular but isn't terrible either.

Back
to top