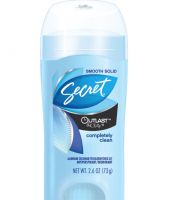 Love Love Love

This is the best deodorant and and antiperspirant. Goes on clear smells very fresh. Lasts and Last. It claims 48 hours but, I believe it lasts longer. Great price and container. I will be changing over to this as my daily deordorant. It made it through my fitness bootcamp my whole body was sweating except where I applied Secret Outlast. This is truely the real deal.

Choose a deodorant that doesn't clog-up the skin or preventing sweating.

A good deodorant is one without leaving residues, stains and odours behind. I've been using UARMSOL deodorant for many years now, even when I sweat, I have no more underarm or armpit odours. I applied 1 pinch and it's all to it for the whole day without worries about any smell afterwards. There's no chemicals, oil or fragrances added. No staining clothes too. There's no after sport smell or odour masking. And the best thing is I don't have to shave !

Works Great!

I love this deodorant! I get the completely clean smell; I don't like to smell like deodorant or fruity smells. It goes on smooth and doesn't irritate my skin. It can leave a slightly white mark on your armpits but this fades and it never gets on my clothes. Works all day and I never need to reapply it.

Back
to top