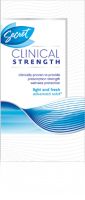 Good Stuff!

If you want a deoderant that leaves you with no worries, this is the one. From morning til night, no stinch break throughs. Would like to see it come in a bigger bottle.

Very close...

Almost nothing works for me. Or when I find something that works, it seems to stop working after a few months. So this is about as good as it gets for me, as a consistently almost perfect antiperspirant/deodorant. The instructions say to apply at night before bed, but never say anything about those of us who shower in the morning. If I shower but avoid washing under my arms (I'm not dirty--I also ...read moreshower in the evening after the gym, before I put this on), it almost always works well enough for me to be satisfied. If I forget I put this on and soap up under my arms like I normally would, it still works, but with noticeably decreased effectiveness. If I need to shave under my arms in the morning after applying this? Forget it--I wasted my time putting it on because it's not going to work at all in this case. I've found what works best for me is to put this on at night as directed, but to also apply the clear gel Secret (or one of the other 3 or 4 deodorants I keep on my dresser) in the morning as backup. That seems to be pretty effective.

The ONLY 1 That Works For Me

Secret Clinical Strength Deodorant is the only deodorant that works for me. This keeps me dry and smelling fresh all day. My 15 year old daughter only uses this product as well.

Back
to top