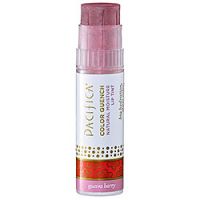 Pacifica Color Quench Natural Moisture Lip Tint
As low as
Nice lip tint

I'm a big fan of tinted lip products, but I feel like many of them wear off quickly and require almost constant reapplication. I have this product in the "sugared fig" shade which is a nice mauve-ish (they call it "plummy" but I don't think it's that purple-ish) shade that looks very natural on me. Kind of the my lips but better type of look. It has a tiny bit of sparkle, just enough to be fun, bu...read moret not so much that I feel like I'm too old to be wearing it or like I shouldn't wear it running errands in the middle of the day. It has a hint of a sweet smell, but it's nothing overwhelming (to me, but I have a weak nose, please be sure to sniff it before you buy if you have a very sensitive sense of smell). I like that it's in a normal chapstick-type tube, not a pot I have to put my finger or a brush into. I'm always a fan of straight from the tube application! (Yes I know you get a better look with a lip brush, but I'm lazy!) The tube also makes it easier to fit into a small purse or pocket! I have some tiny purses and some of my lip products simply cannot hang in a bag that size if I also want to carry my phone and keys (and I almost always do). This product isn't as moisturizing as some others I've used, but it definitely isn't drying and I have been very impressed with the lasting power of the tint. This shade works especially well for me because it's such a natural shade on me that it can wear off a little and I don't feel SO compelled to reapply immediately. But it really does take a long time to wear off even a little. For those who are into it, you should know this is a totally vegan and cruelty free product! The tube is also recyclable which is nice, I just hope I can remember that someday when I finally use up the last of it. That's the nice thing about not needing to reapply constantly, I'm not going to run out of this five minutes after I start using it! (That's an exaggeration, but I know you know what I mean.)

Good natural product

I have 2 shades of this product. I have to say I like how it moisturizes but have used other mineral based lip products that I like better. Why? The shades of this product can be too bright but not in a good, fashionable way. I don't know if it's the mica or the natural coloring? It also doesn't hydrate enough for me. There are other natural brands that I prefer to this for lip color.

Good vegan option

I am always on the lookout for good vegan lipbalms, and this pacifica balm performs well and gives some subtle shimmer and color as well. I have the blood orange flavor, which gives a mid-tone pink coloring to the lips. It isn't as moisturizing as I'd like, but in general, I reach for it often because it is vegan, and does a good job of mixing color and performance.

Back
to top