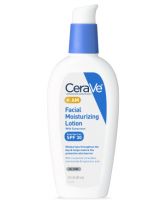 CeraVe AM Facial Moisturizing Lotion with Sunscreen
As low as
Best for sensitive skin

This product was recommended by my dermotoligist. I was given a sample of this and the PM version. I do find the PM version more moisturizing but I like the SPF protection in this product. I have used several other daily moisturizers in my morning routine. I tried cetaphil and my face was always left stinging. Some other brands burn my eyelids and others just did nothing for my face but leave a he...read moreavy film feeling. It absorbs well on the skin without leaving a greasy look or the white layer that some sunscreen products can leave. Additionally I can use my vitamin E oil underneath this product and it doesn't cause any negative reactions to my skin. There isn't a weird or strong overwhelming smell as with some aveeno products. If you have sensitive skin I strongly suggest using this product. It's very gentle and not to heavy or oily if you have acne prone skin (which I do). I have been using this for several months and have to say that I will be purchasing this product again in the future.

One of the best day creams I have ever used

I love this product. It has a hygienic and convenient pump bottle. You get 2oz. I only took one star off because the price is a bit high for drugstore but honestly this is worth it and skincare is one thing that I personally don't mind investing in. I love that the packaging is opaque so that all of the ingredients stay fresh and effective. It has a nice high SPF to protect your skin from sun-dama...read morege since the hyaluronic acid can make your skin more sensitive to sun. It is easy to blend into the skin without having to rub hard. The smell is like sunscreen but it doesn't linger or smell too strong like other lotions can that have a lower SPF. This product sinks in quickly and doesn't leave the skin greasy. The hyaluronic acid helps to keep my skin balanced all day by attracting moisture from the air. This lotion is nice and light and creamy and makes my skin nice and soft and hydrated. It works great alone or under makeup. I have oily combo skin and I still use it even though it's meant for normal to dry and it works great for me. Also, I have Seborrheic Dermatitis and the acids in this help to keep flare ups at bay since yeast/fungus/bacteria can't grow in an acidic environment. I just completely love this product and will stick with it for a long time to come. I think everyone should try this.

Great day Moisturizer

My Dermatologist told me that I need to using at least SPF 30 every day....this was the cream she recommended and gave me samples. I was skeptical with SPF 30 thinking it would be heavy, but it is perfect. I have combination fair skin and have noticed some age spots already, but to further prevent wear and tear, I will now be wearing this every single day. I just wish it had some age busters in it as well like Retin A. Otherwise this product is well worth the trying!

Back
to top