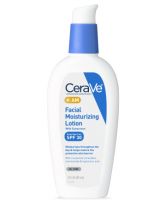 Good Budget Sunscreen

This is not one of the best sunscreens for the face that I have tried, but it does have its moments! For me, it is a sunscreen for the face that doesn't cause irritation or a burning sensation. Always a plus, right?? Also, it is under $20; at about $10 a bottle, you can buy 2 for the same price as so many other "drugstore" brands that supply moisturizing sunscreens. It also doesn't leave a white c...read moreast; however, on the flips side, it doesn't have the most "elegant" texture. I find myself having to almost create "effort" to get it to absorb - I wouldn't consider this a "light" or "airy" sunscreen. To further add to this, I actually would consider this a heavier sunscreen. My skin is oily/combo in the summer and combo/dry in the fall/winter. I can't use this sunscreen in the spring or summer months as it is just too heavy, so I really wouldn't recommend this to those with oily skin. (Sidenote: my mom has normal skin and she also found it heavy.) It also doesn't have any antioxidants, so those looking for just a basic sunscreen for normal to a bit dryer skin, this could be your match! (Sidenote: packaging has since changed!)

Works well

Cerave has great moisturizers. This lotion is heavy which is great for my dry skin. Has spf and is very hydrating.

Cerave Moisturizing Day Lotion

I've been using this face lotion for a few months now since its winter and its been a good basic lotion with SPF to have. It's certainly not my favorite though since its not as fast absorbing. The lotion is more on the heavier side so if you have sensitive skin or oily skin it might be too much for you. It is dermatologist recommended and wont clog pores. I have a tendency to get clogged pores wi...read moreth any lotion so that is the main reason why I wanted to try this out in the first place. During summer times, i cant use this since my skin gets more oily. The price is average for drugstore costs. I have not used it in conjunction with the PM cream.

Back
to top