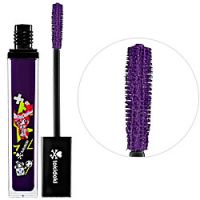 tokidoki Punk Lash Mascara
As low as
TOKIDOKI PUNK LASH MASCARA

In the spring/summer it's a perfect way to switch up your look without being drastic. I keep getting that "there's soothing different about you, but I can't tell what it is" kind of compliment. It's a little clumpier than Sephora brand blue mascara, but great color. I got both the Sabochan (purple) and Baby rocker (blue) colors. I was disappointed that the purple does not show up at all on my eyel...read moreashes (I have dark brunette to black eyelashes naturally), regardless of how much I layer on. The blue color does show up after several coats and is a cobalt-blue color. This product is good if you want long lashes, but if you want that "fake-lash" effect, you're not going to get it. It leghtnes them and makes them a bit noticable, but not much. This is truly blue. I got the color baby rocker, and I couldn't be more pleased. It is VERY electric blue. The more you layer it the brighter it gets. it does lengthen your lashes, but it doesn't really volumize or define them, but thats okay, because I bought this mainly for the color. The problem it has, is that if you dont wait for your lashes to dry before applying more coats, your lashes will clump together and look horrible. Also, watch out for the extra on the end of the wand. Oh, and by the way, this is the LARGEST mascara tube i've seen in my life. I love this mascara! I got it in the blue. From other reviews I see that people are saying it's clumpy, which it kinda is, but it still if fine to me. What I personally do is put black mascara on and let it dry and then put the blue over, and it makes me eyelashes blue. All my friends think it's so cool. Love it! i'm always down to try something punk rock and different. i bought this in the blue color, and found i had to apply many coats for the color to be more noticeable. but the result is pretty cool! you can see it best in flash photos and in bright lighting. i didn't think it would be that noticeable from a couple feet away, but one time this girl was standing at least 3 feet away and complimented my lashes. i don't wear it much though because the mascara doesn't work so well with my contacts. when i do wear it it's for the color. it doesn't do much for volumizing or lengthening. one time i was cashiering at work and this middle aged man all of a sudden said "you know, i rarely notice make up or anything like that.... but your eyelashes are really pretty looking." :D i'd like to try the green one, but don't know if it's worth it. i want some volume as well as a punch of color.

tokidoki = love

The price is slightly high for this product but the quality and cute package are definitely worth it. I have the green one and it looks great for day or night time wear. For night I usually but on black mascara and then layer it with this one so the green REALLY pops. The wand is of average size and dispenses the perfect amount of product. This does not flake or clump up my lashes [even when I rea...read morepply to already dried mascara]. Tokidoki products have some of the best quality and packaging I have seen.

Back
to top