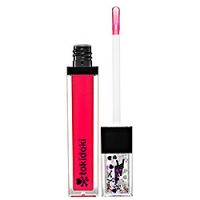 tokidoki Prisma Lip Gloss
As low as
TOKIDOKI PRISMA LIP GLOSS

This just might be my new fav...it's currently competing with my new Urban Decay Lip Junkie Lipgloss - Heavy - which has lived up to it's claim of being the perfect nude on any complexion (read that review later ;). I love how this looks and feels on - the silicone in it gives it a unique texture and and unbeatable shine that lasts for quite some time. I will say that at first I wasn't so bother...read moreed by the applicator but now I hate it! Sometimes if it ain't broke, don't fix it! A lip BRUSH is still more ideal... The color is a pretty muted brown with a sheer, slight peach/pink undertone and absolutely no sparkle (with this much shine you don't need any)... I have seen many reviewers claim that these glosses are virtually colorless. As I have only tried this one and Samba (which was a sheer pink and gorgeous - but VERY sheer), I can't speak to that because Monkey Pirate most definitely has a color to it and I would almost call it a deep nude - which is perfect for us girls with some color as most nudes are only made for very pale white women as if nude only comes in one shade - lol! This is the most unique gloss line I've tried in a while...and I may pick up a few more shades. Has cute packaging and nice sheer finish. Will repurchase.

Ninja Dog

Ninja Dog is the bright blue one. Everyone eye balls me when I whip out this lip gloss because of the crazy color. It comes out clear on your lips and is SUPER shiny and slippery-- no tackiness at all. It lasts a long time as long as you do not drink, eat or kiss the boyfriend! Your boyfriend will kiss you though because this gloss smells like yummy blueberries<3 I LOVE the applicator on this one!...read more The soft plastic it perfect for getting the whole lip in one smooth swipe. The packaging is SO adorable sometimes I take it out just to shake it like a rattle and watch the glitters fly around. This has a decent price tag and comes with a nice amount of product. Pretty much my favorite lip gloss.

Love, but wish it had a litlle more pigment..

Of course the packaging is adorable, like all things tokidoki, and the plastic applicator makes it simple and quick to layer on color. I have this in "Arlecchino," the shade pictured. Thick but not goopy, wears for a good three hours (w/o eating), gives a gorgeous sheen and doesn't slip around. I'd give it ten stars, but the color is more sheer than I'd like. It layers really well over l...read moreipsticks, and would make a gorgeous super-bright lip over fuchsia lipstick. It's good by itself for a low-key lip. Almost perfect!

Back
to top