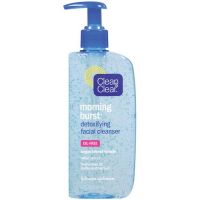 Wakes Me Up, Lathers Well

I have always liked Clean and Clear products because they all usually work pretty well on me, and this cleanser is no exception. The cleanser comes in a very sturdy, convenient pump bottle that's really cute, in my opinion, and the scent really wakes me up. It's this very soapy, fresh scent. The cleanser also has little bursting beads in it, which usually pop when it touches my face. This cleanser...read more lathers really nicely, especially when I use my pore pad to lather it. A pea-sized amount turns into a thick, foamy lather, and covers my entire face. I don't quite know how well this cleanser actually will "detoxify" my face, but I feel that this cleanser leaves my skin supple and clean, but without over drying it, which is always a plus since I have dry/combination skin. It does leave a bit of residue if I don't rinse it off well. For this bottle, I paid about $5.27 for it, and it's a really good value considering its performance, and how long it lasts. I use it almost every morning, and one bottle has lasted me over a year. Overall, I really like this cleanser, and I will probably buy this again.

Nightmare for my skin

The first time I used this I loved it. Definitely cleans skin well without stripping it. Sadly, I noticed within hours that my skin was breaking out more and the problem got worse over the next few days. This is loaded with a pleasant but apparently irritating fragrance. I had to throw away the bottle after only 4 days of use. I've had problems in the past with fragranced face lotions but nev...read moreer cleansers. If your skin is at all sensitive to fragrance, I would avoid this like the plague.

Feels great!

I love that it cleans & exfoliates so gently & leaves my face feeling great!! This is definitely a product I would both recommend & continue to buy!

Back
to top