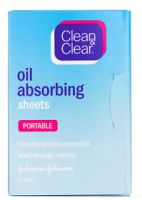 WORK PERFECTLY!

These little balloon-like sheets pick up oil like a magnet without disturbing your makeup at all. You don't have to worry about adding powder to keep shine at bay. I have packets of these everywhere, from my vanity to my purse, desk, glove compartment, you name it!

Just a gimmick

I remember when these came out I was really excited, and they seemed to work pretty well for absorbing oil. Still, cheap tissue paper works just as well, and I don't like that these have dye in them. Really, they're just a gimmick.

Does its job well

It absorbs oil very well without leaving any powder or residue unlike some other oil-absorbing sheets. It keeps makeup in place. I use these all the time because I have really oily skin. It absorbs oil quickly without having to press down so hard.

Back
to top