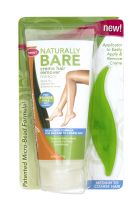 I'm done with Sally Hansen

This was perhaps the most disappointing product I've "tried" in a looong time. This wax is actually my final straw for SH products. They just don't perform well at all. I followed the directions to a Tee and all I got was stinging and I promise you, no more than 3-4 hairs removed on the wax strip each time. I tried it on my legs and bikini area. Same results: no hair removal. The wax has the cons...read moreistency of Mac lipglass and I bet Mac lipglass would remove hair just as well! Fortunately I bought it from a store that allows you to try a product And return it if you're not satisfied. I WILL be returning this goop. Maybe the product its too "natural" for me, but believe me it did not work.

Awesome.

I've been experimenting with using creme hair removers for a while now. Veet burns me, Nair doesn't work. Other SallyHansen removers were mediocre at best. This stuff is awesome. The smell wasn't terribly off-putting. The texture is nice and thick and spreadable. The directions say 3 minutes, but it really takes more like 8 minutes for me. I LOVE LOVE LOVE the green applicator leaf. I always hate...read mored having to try and rinse the stuff off my fingers, but the applicator makes it go on easy and come off just as easy (and thoroughly, too!) Just to give you an idea of how awesome this stuff is, I use it to give myself Brazilians. THAT is how gentle this stuff is. I wouldn't trust anything else around sensitive parts.

LOVE THIS PRODUCT!

Just wanted to say i love this product-purchased from a local store a few months ago used the bottle up & was disappointed to find that the store i had bought it from does not have it anymore-looked elsewhere & have yet to find it again - anyone know an online place i can get this item.... would recommend the product to anyone that has hair issues like i do...no one would ever know with this product !!

Back
to top