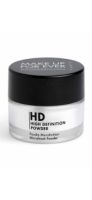 Gorgeous Powder to be Used Carefully

There has been tremendous press about Make Up For Ever's "HD Microfinish Powder." It is an amazing product, but I think some words of warning need to be issued about it here. This is an award-winning, translucent, ultra-finely blended silky powder to be used on your bare complexion or over makeup. It is made of one hundred percent mineral silica which does work to disguise fine lines and crease...read mores and pores, keep oil at bay, and stop makeup from budging. It will keep skin moisturized as well as it also adds a soft radiance to your face, and who doesn't love that? The problem is that many women use far too much. Just a little is necessary here. You may want to use a good, professional powder brush (a kabuki brush works best, applying in small circles), but I have better results with Beautyblender's incredible little sponge. I pour a tiny amount into the cap or a palette and blend with the sponge dampened, being sure to get rid of all lines of demarcation. When using on nose and chin, downward strokes will help to disguise pores. Many women are adamant about setting undereye concealer with powder. This is probably the finest setting powder available, but I have mixed feelings about this practice. Back in modeling school, we were drilled again and again never to use powder of any kind around the eye area, as it will ultimately make creases protrude. I have used this under my eyes and am thankful that my skin is in good shape, with no crow's feet and miniscule creases. However, I did find that it made the concealer look artificial and did call attention to the tiny lines. I washed my face and began all over again, this time keeping the powder confined to my nose, chin, and other areas of my face. When I did that, I was very impressed

A little goes a long way!

This is easily one of my favorite setting powders EVER. Work a little bit in your brush (swish it well) and dab all over your face. Most people tend to put TOO much powder on their face which is why they complain too much about looking too powdery. This powder is razor sharp and ultra refined--it will look completely invisible when applied correctly. In fact, I think my makeup looks better with th...read moreis on than without it because it really helps to control shine and blur fine lines and edges. Don't be afraid to try this on if you have darker skin because the powder looks white. I work with MUFE products and I am always willing to demonstrate on women of color to reinforce my claims that this goes on completely invisible. It feels light weight as well. You can wear this on top of makeup or alone on days when you just want to remove shine and don't feel like wearing makeup! I highly recommend using the cap to pour a TINY bit of the powder into it when you dip your brush in it. I can see why this product has won so many awards because it is truly the best. I used to use BareMinerals Mineral Veil all the time until I started using this lovely product.

Soft Finish

I really like the look and feel of this product. After using the HD Liquid Foundation, this powder helps to take away shine but doesn't have that powdery look that some finishing powders. It has a nice and natural look to it, like your skin just got smoother within 5 seconds. However, do not over powder your face with this because it will leave a white layer all over your face. Great for use in ph...read moreoto shoots and wedding photos. Lasts at least 6 hrs without reapplication. Feels great on skin and since it is finely milled, you don't see the powder, it kind of just melts right in. It can be a little messy, but I just tap off the excess and then after putting the cap back on, I will shake off any powder that got in between the cap and the edges so it doesnt spill the next time I open it. Highly recommended.

Back
to top