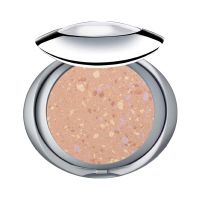 Disappointing

This product looked promising and was inexpensive plus on sale. I thought this would be more of a powder with a slight glow of a finish, but this is more of a shiny highlighter. I have medium-light skin and the "Light Glow" color was a good match. It did not irritate my super sensitive combo skin. It was shinier (looked kind of dewy at first) than expected and really brought out the imperfecti...read moreons in my skin and had small pieces of visible glitter in the sunlight. Both the good and bad news was that it flaked off quickly and only lasted on my face a couple of hours. As a powder I was glad it wore off quickly because it amplified my wrinkles and pores. As a shimmer product it originally was nice but not worth it because it completely wore off in a couple of hours. I never have this problem, so it is the powder. The container is cheap and looks like it would break or crumble-not good for travel. It has a separate compartment for the applicator, which is great. Unfortunately the applicator is a mostly useless brush. Not my best find.

Excelent for Aging Skin!!!!

I love this product as well. I don't want anything heavy and I like a sheer coverage but too matte a product makes me look old and this has just the right amount of glow to make the flaws almost less noticeable. As with most mineral products though this does nothing to eliminate shine and I so wish one of these companies would take care of the issue

good stuff.

This gives me a nice and natural looking sun glow, without me looking like an oompa loompa.

Back
to top