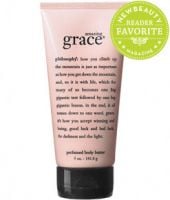 Body butter

I have found that body butter works better than lotion. This really moisturizes and absorbs quickly. It has a really nice fragrance. I highly recommend this.

Amazing Grace Body Butter

Philosophy's body butters are rich, creamy, and very moisturizing. I recommend any of them, just pick your favorite scent! Amazing Grace is a soft floral, with a hint of powder, and infused with air. It's airy and soft. Most people who love Amazing Grace are people who work in healthcare or teachers that don't want an overpowering, sometimes bothersome for others fragrance, but still want a nice scent for themselves.

Clean and lovely

I received this in a set with the Amazing Grace fragrance spray, and I was very impressed with this luscious, lovely scented body butter. It moisturized my skin extremely well and made the fragrance spray last much longer with layering it. I love the Amazing Grace scent, so clean, fresh and innocent smelling but still somehow grown up.

Back
to top