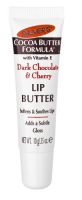 Delicious Lip Rescue!

I'll never forget when my beloved mom had emergency quadruple-bypass surgery. She was put in a rehab center immediately after the operation. Despite my protests, the staff refused to note that the area where part of an artery was removed was hot, red, and becoming infected. She had to have further surgery--plastic surgery to cover the scar. The plastic surgeon's office glistened with bottles a...read morend tubes of skin care products under mirrors and behind glass. One day I asked the surgeon which product truly worked. He confided in me that he carried them simply because his patients believed in them. He himself thought that nothing worked better to heal skin than cocoa and shea butters. What a great piece of information to learn! Palmer's products are so affordable and so efficacious! This lip balm is delectable to the point where I don't know whether to wear it or eat it (I don't suggest consuming it). Mix the scents of dark chocolate and peppermint with cocoa butter, petrolatum, and Vitamin E. The result is lips which are beautifully and truly healed--no more flakes, crust, or cuts. This is an incredible balm and gives a subtle, lovely shine. And I'll never forget the surgeon's words about the potency of cocoa and shea butters . . .

Loved It, Ran Out Of It, Mourned It...

This stuff make my lips silky smooth, tasted incredible, and went on nicely. I was surprised by how much I enjoyed it, given that I don't typically care for artificial cherry scent or flavor. I picked it a while back and have not seen it locally since then, which makes me wish I had bought more than one. Hindsight is 20/20!

One of the best lip balms on the market

I have never had good luck with lip balms especially drugstore brands such as Vaseline, Nivea and even the cliche Labello. This brand caught my eye after a few recommendations and I decided to buy this one. I reached home after a long day, washed my face and applied some of this lip balm. Let me say this : WOW I expected the same old cliche for lip balms which is thick, gloppy and dries with a cru...read morest, however, I was fortunately surprised by this one. I got the one in dark chocolate and cherry and it smelled good enough to eat which I do not recommend. The delicious and sinful smell of freshly baked chocolate cake wafted up to my nostrils and I was delightfully relaxed! What I love about this balm is that it remains moist on your lips without drying with a white, repulsive crust. I would definitely recommend this to anyone looking for a cheap but effective lip balm on the market!

Back
to top