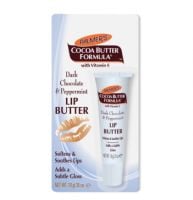 Wonderful

I'm a proud chocolate and lip balm addict, and I decided it would be wonderful to have a lip gloss flavor for Christmas. By the first use I was hooked! This lipgloss goes on easily, is a great flavor, and a must have. Perfect product!

Review subject

This balm is a bit greasy. The scent is fantastic, and it does last awhile. Not sticky at all. Goes on really smoothly as well.

great for winter

I was using my Carmex cherry lip balm in a squeeze tube (spf 15) before this, but I felt that I needed a new lip balm for winter. I had this one laying around unopened, and I have to say I really like it. The dark chocolate smell is great. It reminds me of hot cocoa. This has a subtle gloss, and lasts for awhile. The only thing I don't really like is that it doesn't come with spf, but whatever.

Back
to top