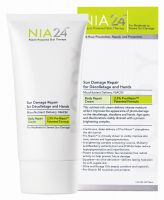 NIA 24 Would Not Provide A Manufactur/Expiration Date

It moisturizes but it's slightly greasy and I haven't noticed any lightening of a particular sun damage spot on the top of my hand . Given the price, this should have made an impact by now . . . . If I don't purchase a product directly from a manufacturer, I always get around to contacting the manufacturer with their product code to ensure freshness. I called NIA 24 with the product code listed on...read more the container and they told me to ask the seller. I contacted the seller (who is an authorized NIA 24 retailer and one of the retailers I have gotten 1 expired product from in the past ) and they had no idea how to decipher NIA 24's codes and referred me back to NIA 24. On my second call to NIA 24, I explained all of the above INCLUDING that I had gotten an expired product from this retailer in the past and NIA 24 said "nothing ships out from us that isn't fresh " and again, refused to give me the dates . Of concern - NIA 24 can not possibly know how long a retailer has had a product stored on a warehouse shelf, therefor it doesn't matter how fresh the product was when NIA 24 shipped it to the retalier, if the retailer didn't rotate in the warehouse, and it definitely happens, then a product could expire. Considering NIA 24 sells numerous sunscreen products, it's unimaginable that a consumer can not get this information from this company. Stability of a sunscreen product is of the utmost of importance. I have checked codes from products sold at many reputable retailers both online and brick and mortar and found 3 expired products in the past 5 years or so, I know this isn't many but if I'm paying this kind of money, I want to know I'm getting a stable, fresh product. Out of probably 20-25 manufacturers I have called over the years, NIA 24 is the first manufacturer to deny this information.

Can't live without it!

I can't live without this product! It is hands down (no pun intended) THE best hand cream that I have ever used..it is light and dries down quickly but leaves my hands feeling replenished! I also use this on my decolletage.. it's done wonders for my skin! Thank you NIA24!!!!

Funky Smell

Although the product does a wonderful job of brightening the skin, it develops a heavy sour smell over the course of the day. I thought it was just my chemistry, but a couple of my my gal pals tried it and got the same reaction. The unpleasant smell also gets into the fabric of clothes and is difficult to wash out. The Nia Skin Strengthening Complex is excellent and doesn't develop the smell, so ...read moreI'm not sure what the malfunction is with this one. Just say no to this one. There are better brightening products out there.

Back
to top