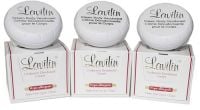 Very Helpful!

I normally experience quite the odor when exercising, socializing, or being out on the sun. Normal armpit deodorant definitely helps me, but carrying it is a hassle. Plus, I was yearning for a healthier option. Heard about Lavalin from a friend and decided to give it a try. So far, it's been quite amazing, no odor at all, and it lasts almost a week. Kind of nice, when you are girl, to not have to worry about the odor. )

I'm quite impressed

I got a small sample of this product and I have to say, I was scared and skeptical to try it. Ive tried many other "Natural" deodorants and would still have some "stinky-business" going on. So I was very scared to be walking around and people running the other direction just to try this product out. But I did it and boy does it work! I even did the ultimate test and went out fo...read morer a night of dancing (really scary!). I had to bring a small deodorant just in case! But I didn't need it and I didn't smell funky at the end of the night. And that was on the 5th day too! I reapplied the product on the 7th day and I still smell fresh! So for a deodorant it really does the job! And a little goes a long way coz that small sample has lasted me for a month now. I just took off 1 star coz I'm not certain if this will control people who perspire a lot since I don't really... but I do have to control the odor so 10 stars for that!

All hype!

My husband and I received a sample of this and let me say; it didn't work at all! I smelt really bad at the end of the day. I definitely don't recommend this to people with strong BO. Definitely would NOT buy this!

Back
to top