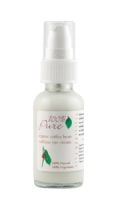 Nothing Special

I heard so many great things about this eye cream before I bought it. People raved about its effectiveness at reducing puffiness and dark circles - two things that 100% Pure also claims. This eye cream is very reasonably priced at $19 for the bottle and it comes with one full ounce. This is quite a generous size compared to many other eye creams. It has a fairly sweet, artificial coffee smell ...read morebut I thoroughly enjoy the scent of it. Despite it being fragranced, I haven't experienced any sensitivity around the delicate eye area. Like just about every other eye cream I have tried that promises to de-puff and hide dark circles, this does not visibly deliver. The consistency is nice and sinks in quickly enough. I wish this had an SPF in it to protect the delicate eye area from sun damage and premature aging but sadly, most eye creams on the market lack SPF protection. The packaging of this eye cream is very cheaply made. The pump does not always work and the product often leaks out. It's a nuisance, but I would be a lot more upset about it if this was a more expensive product. The design of it is meant to stand up on its head, but when you store it that way, the product takes to long to travel through the badly made pump! So I have to store it on its side...again another nuisance. I like that this is inexpensive and nice enough to use, but without any major benefit or protection and the major issues with packaging, I would not repurchase this and probably will move onto something better before I even finish the bottle I already own.

Great Product

I bought my second tube (the biggest one they have) already after getting good results from this product. It doesn't completely diminish your dark circles but I find it best to use if you want to make sure you don't wake up with raccoon eyes in the am. It's definitely better than most eye creams I've used.

Organic Eye Cream

Wonderful product..Im happy to have found it.

Back
to top