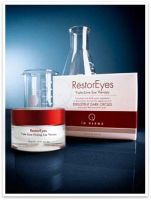 Highly Effective

A cosmetic company offered me the opportunity to try this, and I have since repurchased several times. This is a highly effective product, though pricey. The company has created a complex called "Firmoxyl" to leave the eye area looking well-rested, boost hydration, and reduce crow's feet. A closer look at ingredients reveals gentle acids, sodium hyaluronate (a moisture magnet), and copper. Ne...read moreutrogena included copper in one of their eye-firming creams years ago, and it works wonders at making skin immediately more taut. With continued use, the benefits accrue. It is totally non-greasy, absorbs well, and you will definitely see positive results with this. This is a great eye cream which I highly recommend.

sucks! n burnt

didnt work at all no difference in dark circles just oily and burns eyes!

An unbiased opinion

I won this in a giveaway; I had never heard of it before but now that I have, let me tell you what I've learned. When I received it in the mail, I immediately took it out of the box and put on my bathroom shelf. The next day I decided to start the regimen. Nothing on the jar explains what is is supposed to do, nor did the box. I purposely did not research. I wanted to see what the results were wi...read morethout any expectations. I used it as directed, morning and night. When I put it on, it felt a little tingly but I still didn't know if it was an under eye lightener or what, would it get rid of circles? Three weeks later, I'm here to report that it successfully eliminated the crows feet around my eyes. I still have a few tiny ones but absolutely no where near the amount as before! Now I know and now I love! I have since read the documentation; the test was over and I wanted to see what the claim was now. This product truly does live up to its claims. The jar may be rather expensive but it will last; just a tiny bit is needed!

Back
to top