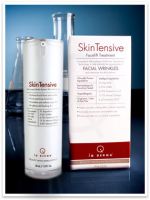 15 stars!! Will never stop using this!

Im 51 and have no wrinkles, except a bit of creepiness around my eyes. I probably should have used their eye cream all thsi time!! I've used this for about 4 years now and will never stop. Im using it on my chest now. I should have very wrinkled skin. As a teenager and in college we fried ourselves with no sunscreen and even using baby oil mixed with iodine. I wont tell my girls about using r...read moreecord albums covered with foil and putting them under our chins to get a quicker tan. But something has worked and this is the only serum Ive ever used. I wish more people knew about it!

Good, but not for me

Tried the free trial and am sending product back. Hopefully no issue with guarantee. Product seemed good at first, but for my sensitive skin too drying and irritating. With free trial offer, you can't go wrong.

Smoother skin

To be honest...I don't have many wrinkles, so I can not profess that this eliminated them, but I can say it did give me smoother skin!

Back
to top