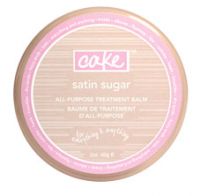 amazing!

86% shea butter makes this product so special! It is multi-tasking and can be used as a super-duty cream, a lip chap..or to help tame fly-aways and frizzy hair! best multi-tasking product i've used in really long time! (great for travelling) oh and it smells like lemon cookies! how can you go wrong?!

wet powdered sugar

The consistency of this is something like wet powdered sugar. It's very odd. It smells like lemon, sugar and vanilla. It is really thick so you only need a little bit. You scrap a piece off, roll it in your hands till it melts. It works nicely as a moisturizer. I love it because I can keep it in my purse and never have to worry about the cap coming off and lotion getting all over everything...read more. I don't think I would buy this again for the price I paid for it, but I doubt I need to, its a big jar and so far I have had it a year and have not used much.

Simply the best

I have nothing but raves for this product. It does everything it claims too - moisturizes beautifully every place you might think of putting it. I use it in my hair, on my chronically rough elbows, on my husbands cracked heels, on my lips... This is a constant in my purse, along with my keys and driver's license! And it smells WONDERFUL!!!

Back
to top