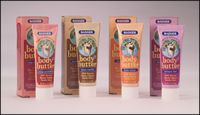 Badger Body Butter
As low as
BADGER -BEST KEPT BEAUTY SECRET!

This stuff is amazingly good, especially for women of a certain age. I love all the natural ingredients and it all obsorbs into the skin very well. Smooths out a world of sin in the form of wrinkles and is good for your skin too. Best of all, it's so affordable!

Greasy ...

and it works great. Just don't use too much and you'll be fine.

Back
to top