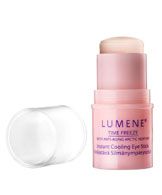 feels cool, fun stick form

i got this b/c the application of the stick thing seemed really conveniant, like to have in your purse. it does feel very cooling and soothing when your all puffy eyed and hot, and tired...and it did help take down some puffiness under my eyes. it seemed to roll off tho, like it didnt absorb well enough, and it didnt help with the crinkles i get from dryness under my eyes either.

Meh

Helps w puffiness a little. Best part is the cooling effect and the stick is adorable. Generally didnt help w moisturizing though - doesn't sink I well. But cooling part is pleasant. Glad I tried it but wouldnt buy again.

Great Morning Product

I found this after seeing a review in Allure Mag. This is great on puffiness and dark circle. I love the cool non greasy feeling. I use every morning and some nights before bed if my allergies are acting up giving me puffy eyes.

Back
to top