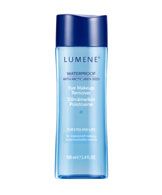 Editor's Rating & Review
Like Chanel Precision Demaquillant Yeux Intense Gentle Biphase Eye Makeup Remover, the liquid appears to be two tones of blue, but that's where the similarities end. It will wipe away mascara and liner easily if you follow the directions to place a soaked cotton ball on top of your eye for a second and then wipe -- though removing waterproof formulas takes quite a bit more wiping. But the problem is that the residue is so oily, it can take more than one post-removal face-washing to make the slippery effect go away.
Reviewed by Kristen on 09/25/2007

How we review products
Great First Step!

I was a Clinique "take the day off" die hard user for years. I tried all the popular removers, but found them unbearingly greasy, or very irritating to my eyes. Tried this and found the closest dupe for Clinique for 1/3 the price. Plus CVS always has BOGO so I can stock up. I use it first, then go on to wash my face, etc at night so it is definately perfect for me. I hold it to my eye about 1...read more0 seconds and any makeup comes right off! But I wouldn't use alone, it does leaves the tiniest bit of residue. The UN waterproof version stings my eyes, so I stay clear of that one.

Raccoon eye

This gave me raccoon eyes as it doesn't clean off all of the mascara. I use Lumene waterproof mascara. I only bought and finished the 1 bottle that I bought. Not buying this again. Also, it's very greasy.

make up remover

I liked it alot, felt good on my skin.

Back
to top