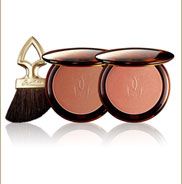 Great Product

After reading the reviews on the Guerlain Terracotta Blush and Sun I went straight out and bought it (Light 01). I am not keen on bronzers on my skin (have the whole Benefit range, tried Cargo, tried Clinique, and have bought the classic Terracotta bronzer in the past) but want the tanned look without the damaging effects of the sun so continue to search for the perfect one and thought this might ...read morebe it. Unfortunately I found that, as with all the others I have purchased, it settled into pores and has a gold glittery aspect to it which I don't like at all. I have come to the conclusion that bronzers aren't for me so have compromised by mixing Benefit's Dandelion brightening powder with my Mac Desert Rose powder blush which gives a really healthy pinky glow to skin which looks fantastic and very natural... Another home run for Guerlain. I love this product. I have very pale skin, and this gives me a nice, healthy looking glow, without making me look overly 'made up'. My only gripe is the price. It is very expensive for a small amount. This is a super sheer bronzer that I personally like to use as a blush on days that I don't wear my Nars or other blushes. It gives me a deeper, but just as pretty glow. As another reviewer has mentioned, it is very small in size but it will last a long time. Plus, it comes with an adorable little applicator brush. This is a staple for me! I'm in love. These three "sheer bronzing blushes" as Guerlain calls them are just gorgeous. This is a review for the lightest shade, 01 Sun Light. This is lighter and has more pink in it than the other two, with the bronze base featured in all three. At first I was wary because it looked in Sephora's weird lighting like a bronzed version of Nars Oasis, which didn't work on me, but it actually applies on my NC30 face more like a bronzed version of Deep Throat. It works alone but definitely looks best over a stain or matte bronzer on me - I wore this over NARS Blow-up last night and it was stunning. I think these would also look incredible on a tanned face - but I don't tan so I can't say for sure. :) It also doesn't go on as shimmery as it looks in the pan. (I don't wear shimmer well but I can wear this.) One warning: if you're only seeing these online, make sure you understand how small these are before buying. They are not the size of the bronzing compacts but significantly smaller and I think that plus the $38 price tag might put some people off. Even so, I predict these will be very popular this summer. I will definitely pick up the 02 shade as well. I have this in shade 1 Sun Light. This is a really great color, because it's pink as a blush, but still works as a bronzer. I would describe it as pinkbronze. Will be great for summer if you want the natural look, it's not overwhelming in any way. I bought this shade because I'm a PPP and thought this would fit me the best, but I think one of the other two shades would be more what I was looking for since I wanted more of a bronzer than a blush.

Another great terracotta product

cute little brush and compact. I love color #3 suntan. Nice color and easy application. Remember blend blend blend!!

great colors

i bought this because i never could find a bronzer that looked natural--actually i bought 1 & 2 (colors) and can wear both--i hope they never discontinue this. it is awesome!!!

Back
to top